This past week was a "Staycation" week for me and although we did not go to our usual jobs, my husband and I did a great deal of work.  We tore the carpet out of two rooms in our house and replaced it with with laminate flooring.
We have two fur babies and I have a long list of allergies, and so had decided that the carpet must go.  We went through the process of picking out what we liked, we placed the order, and a pallet full of flooring was delivered the week prior to install.  We watched a few YouTube videos to get an idea of how it should go and had the support of a friend who is a professional for feedback and emergency backup.  This was our first endeavor into the world of flooring and I learned a great deal in 7 days.
First, I learned that manual labor is no joke and my knees felt like I was in non-stop, week-long training camp to be a major league catcher.  Also, padding is important and after the first day of no knee padding on the concrete under the removed carpet, I learned my lesson.
Next, I learned that home improvement projects are a form of Marriage Counseling.  I am happy to say that I am still married to my husband and we did not attempt to harm each other with any of the tools even once in the last week.  (Although my husband's theme song for the week was The Beatles' song "Maxwell's Silver Hammer"…)  I felt like we reconnected over this project and did well in the teamwork division.
I also learned that I am smarter than the floor.  Some of the doorways and a closet posed a challenge, but picturing the space, figuring, measuring, cutting, and (sometimes) trying again, all work into the equation of outsmarting laminate and the layout of a room.
I learned that doing something completely different than what I usually do on a daily basis is a healthy change for my brain.  I think that last week may have been one of the most mindful weeks I have ever experienced.  When installing the flooring, being fully present is a must for accuracy, safety, and timeliness.  When getting into the flow of the activity, time slips away and the placement of each board becomes like an art form.  (The careful and artful task of board picking and placement may have been a point of contention between my husband and I, but alas, we made it through.)
But, I have to say that the most important lesson I learned was that when I go into something without doubting my ability to complete the task, I am successful.  There may be a learning curve and a few do-overs along the way, but in the end, I can do anything that I put my mind to.  Thus, I have realized that the only things holding me back from accomplishing all that I want to accomplish in my life are my own self-imposed limits and doubts.  There is truly nothing telling me that I cannot succeed at those things I "wish" I could do other than my brain.  When I put forth effort and exert will, ask for help when needed, and take the time to be open to learning, I do succeed.  I NEVER ONCE considered that we would not be able to install the flooring ourselves and I believe this was key in our success.  When we hit a roadblock, we asked the expert for advice or help and figured out how to move forward.  Each time we had difficulty or had to try again in a different way, I did not think of it as a failure in the project, but more of a detour or learning curve.
So, perhaps if I view all of the goals I have like I viewed the flooring project, I will be unstoppable.  We have all heard the question, "What would you do if you knew that you could not fail?"  If I believe and I try and I willingly learn and go with life's redirection rather than fighting it or labeling it as a failure, I really can't fail at anything.  My perspective has shifted.  Curves in the road, changes in direction, and the need to try doing things differently are not failures.  These are simply lessons on the journey.  What an awesome and helpful epiphany!
Four months ago, when I launched my blog, I wrote about sending in an application to be a presenter at a conference on yoga and psychology.  (See post "Ready or Not")  This past week, I was notified that I was selected as a presenter and in April, I will speak at the conference about how I am bringing the worlds of yoga and psychology together.  I was overwhelmed when I was first notified (and a little shocked), but then if I view this opportunity the same way that I approached the flooring installation, I can't fail.  I will present my experience, teach how I meld the two together in my work with patients, and I will have new doors open to me because there is no consideration that I can't do it.  The only thing that could get in my way is my own fear, doubt, and ego.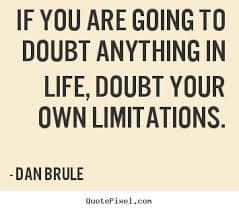 So, what would you do if you knew that you could not fail?  Because if you are open to learning and trying and re-calibrating when needed, you simply can't fail.  Marathon swimmer Diana Nyad states that her success, at age 64 after several failed attempts, in swimming 110 miles from Cuba to Florida, was more about her spirit than her mental and physical ability.  In talking about her decision to try again, she said, "It wasn't so much 'what did I want to do'.  It was 'who I want to be'."
Who do you want to be?  Trust your spirit.  Get out there.  Believe that you can do it.  When you are detoured or redirected, keep going and learning.  You can do anything you want. Really.
I will be reminding myself of this right along with you.
k