A coworker asked me yesterday if there were many "levels" to yoga. I told her that I have been practicing for 16 years and I am a beginner. (She really is a beginner, so maybe that wasn't the most motivating thing I could have said…) But, some days, it certainly feels that I am.
I think of yoga a lot like I think of life. It's a practice. And I don't really think there is an end to the practice until there is an end to my time in this life.
I take my role as a teacher very seriously. When I was young, I wanted to be a school teacher. I would ask to be taken to the teacher supply store, create handouts for my make believe students, and fill out grade books. I later decided that school teacher wasn't what I wanted to be, but letting go of being a teacher never happened. I teach people in the yoga world and I teach people in the counseling world. And part of taking my role as a teacher seriously is taking my role as a student very seriously as well.
I have been teaching yoga for 13 years and I have 500 hours of yoga education. However, this year, I decided to train in a different style of yoga and I am earning my 200 RYT certification in Kundalini. And, man, am I a beginner. As a yoga instructor, it has been a wonderful reminder of what it is like to walk in to a yoga class and have no idea what to expect. I have had to follow the lead of others and allow myself to not know; to be open to the moment and to be vulnerable.
When I introduce myself to someone and tell them that I am a licensed counselor, I frequently get the response that represents, in some way, that I should have all of the answers to living life with no problems. I have patients who are shocked when I tell them that I can teach them all of the skills that I do because I have to use them in my own life.
Yogi Bhajan said, "If you want to master something, teach it, but never teach anything you haven't practiced on your own first."
When I am leading a yoga teacher training, I tell my students that the best learning experience as a teacher is to continue to be a student. To be a great teacher, you must continue to learn, to grow, to practice introspection, and to have your own practice as well. Experiencing it in your own body is the way to know how to lead others there. And this applies in yoga, in counseling, and in life.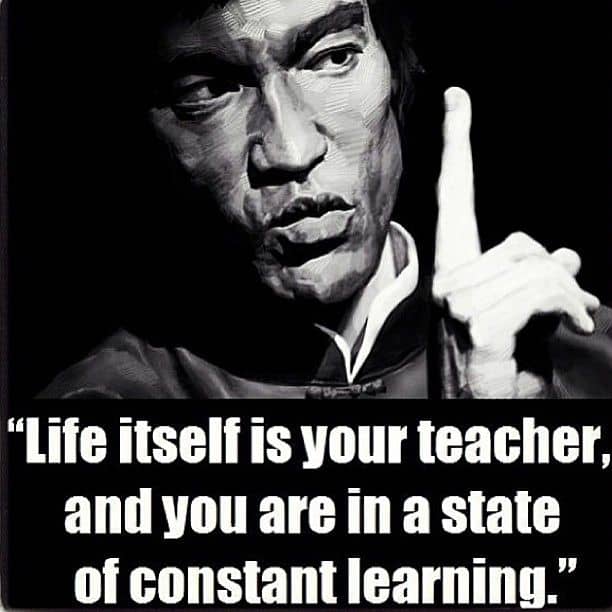 There are so many opportunities to learn every day. I learn from my patients, I learn from my dogs, I learn from my own reactions, I learn from my yoga. If we approach our lives with the open mind to learn more about ourselves and how to be fully engaged in our lives, then we can live more authentically from our true selves.
According to Brant Cortright, author of The Neurogenesis Diet and Lifestyle, "Learning new things increases neurogenesis". Neurogenesis is the birth of new brain cells and we want to do all we can to help this process along so as to have healthy brains as long as possible. When it comes to the brain, we truly have a 'use it or lose it' situation. Cortright also states that "becoming a lifelong learner is what it's all about. The brain is stimulated by engagement…and when we disengage, we sag." (I like this guy!)
My theory is that if I am an eternal student of life, then I can be an eternal teacher as well, passing on my own experiences to others. And they may or may not be helpful, but my intention is to help. And something that I have to remind myself of is that I don't have to know "everything" to be able to help others; the intention to share from a place of love is way more important.
I am trying to figure out how to make it every day just like everyone else. I have a lot to offer to others and you do too. You have unique qualities, experiences, views, and knowledge that can help others. And when you help others, you help yourself. It all circles back around in a lovely flow.
We can all learn from each other and teach each other. This is how we connect and grow stronger together. We must open ourselves to be teachable and to be open to new views. I believe that this is a way to a healthier society for us all.
This week, open yourself to learning something every day. And then pay it forward, teaching others. You know I will be excitedly learning right next to you.
Talk again soon,
k