Picture it: You start a new job and on your first day you are meeting all of your new coworkers. Within the first week, you are attending meetings with them and having conversations to get to know them. You are observing to learn the dynamic of the workplace. This is a group of people with whom you will be spending time with every day, so, you have a choice in how you proceed here at the beginning of the relationship to the group. You can survey the land, notice how others act, and then put forth the version of you that you think will best fit in. Or, you can be your authentic self, showing up to be seen just as you are, and take a chance on belonging.
Fitting in vs. Belonging. There a difference in the two and they have near opposite effects on how we feel about ourselves when we choose one over the other. We innately need connection and have a deep desire to belong, but because that deep desire can lead to feelings of desperation, sometimes we do what we can to fit in, not knowing that we cannot reach the same result in the end.
In her work as a Social Work Researcher, Brene' Brown has explored the differences between fitting in and belonging. While working with middle schoolers several years ago, she asked the class what they thought the difference was between fitting in and belonging. Their answer: Fitting in is when you want to be a part of something and belonging is when others want you.
In her book, The Gifts of Imperfection, Brene' says, "Fitting in is about assessing a situation and becoming who you need to be to be accepted. Belonging, on the other hand, doesn't require us to change who we are; it requires us to be who we are."
When we change ourselves to fit in, we are essentially selling ourselves out. We are putting forth an image, wearing a mask, pretending. This may sound a little harsh, but deep down, you can feel that it's true. When we try to fit in, there is a deep feeling that something is missing. It just doesn't feel quite right.
Fitting in requires a great deal of energy. We have to keep up the illusion; maintain that presented version of ourselves for those we are trying to fit in with. Not only is that exhausting, but it also blocks our ability to belong as belonging can only occur when we allow ourselves to be seen and accepted as who we truly are.
When we can be brave enough to step forward in our authenticity, as our true selves, and to refuse to change ourselves to fit in, then we can truly belong. When we battle through the vulnerability and the fear by staying true to ourselves, we are practicing a pure version of self-love and respect. And living our truth allows us to not only belong, but to also feel more joy, satisfaction, and freedom in our lives.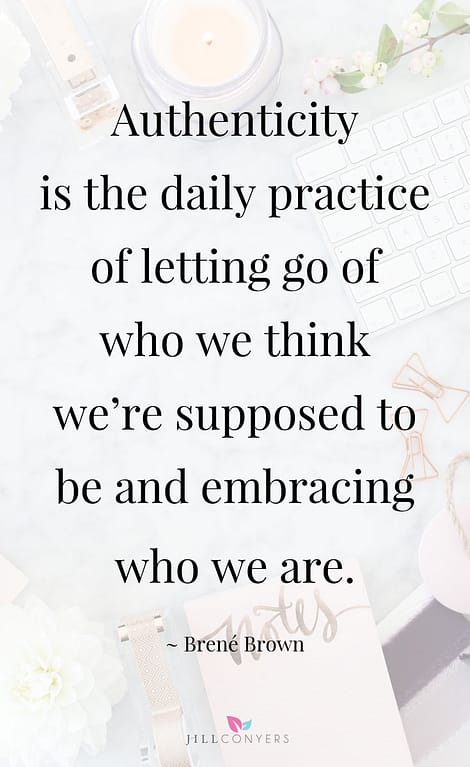 Looking at these concepts under a microscope can shine a light on how we have been doing things and that may feel uncomfortable or vulnerable. But, that edge-of-the-comfort-zone-space is where growth begins. When we allow ourselves to really look and to become aware of what we have been doing, we can recalibrate and stop making things harder than they need to be.
This week, do your best to really look at where you are trying to fit in and how that feels. And then notice where you truly belong. Be brave. Be you. You are worth it.
I will be practicing courage right along with you.
Chat again soon,
k