Have you ever found yourself judging how hard someone else is trying in their life? Feeling frustrated as you think of all of the ways that they could be doing better? And what about beating yourself up for not doing your best or handling things perfectly?
We may, at times, find ourselves standing in judgment of how others happen to be handling their own lives. We may assign our own expectations to who we think others should be and what their efforts should look like. When we do this, we are setting ourselves up to be frustrated, irritated, disappointed, and resentful. When this process becomes a way of living, we find ourselves disconnected, dissatisfied and disengaged. Oh, yeah, and exhausted.
The good news is that if we can make some shifts in how we are interacting with the world around us, we can take better care of ourselves and stop expecting other people to be something or someone that they may never be.
This week in the online course I lead based on Brene' Brown's book Rising Strong, we are focusing on shifting our own perspective of how hard others are trying and looking at the impact this shift has in our own lives. Brene' names the process of unwinding our how we interact "Living BIG" and the three components are Boundaries, Integrity, and Generosity.
Let's start with Boundaries. The most straight-forward and easy to understand definition of boundaries is letting others know what is okay and what is not okay. We are training others in how to treat us and when we do not uphold our own boundaries and redirect their behavior, we train them to believe that whatever they did was acceptable to us. This means that it will most likely happen again. We must also recognize that maintaining our boundaries means that we will have to have difficult conversations at times, but that the conversation is saving us from the resentment and anger we will experience when do not stand up for ourselves in this way. Boundaries allow us to take care of ourselves while acting as the person we want to be. That's where Integrity comes in.
Integrity is living in alignment with our core values even when it is not easy to do so. It is about doing what is right when no one else is watching and resting easy knowing that we are making choices that support the person that we want to be. Integrity is how we hold ourselves accountable for maintaining our own boundaries and it is how we grow by bravely living into what is right for us.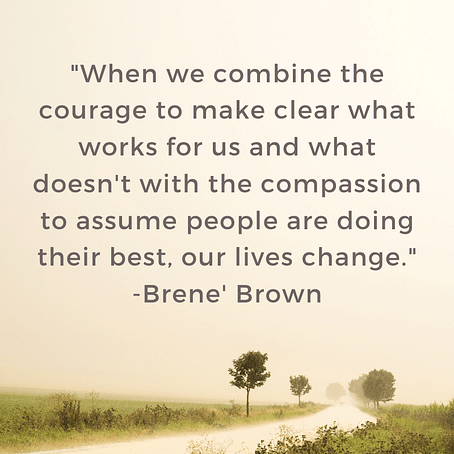 Generosity may be the most slippery of the three components and it really comes down to our expectations and judgment. Generosity can require a bigger shift as it entails our making the kindest and most compassionate assumptions about the intentions and actions of whomever we are interacting with. It's about assuming the best. We may need to check the story we are telling ourselves about the other person or the situation and then open our hearts and minds to grace. (Note: Generosity is not an excuse for the bad behavior of others. This is why it must be coupled with Integrity and Boundaries.) Generosity is a way for us to let go of expecting others to be someone or something other than what they actually are. Like forgiveness, generosity is about allowing us to soften and to respond differently. This is where we have to dig deep and open ourselves to the possibility that everyone is doing the very best that they can with what they have.
Overall, the concept of Living BIG comes down to this question from Rising Strong: "What boundaries do I need to put in place so I can work from a place of integrity and extend the most generous interpretations of the intentions, words, and actions of others?"
We must also recognize that all of this work must also be reflected inward in how we are treating ourselves. When we uphold our own boundaries with others, but also with ourselves, when we make the choice that supports what we deeply believe in even when it is difficult to do so, and when we remind ourselves that everyone- including us- is doing the best that they know how to do in this moment, we can relax into more ease and contentment while letting go of anger and resentment.
So, give it a try. Explore Living BIG for the next week or even the next few hours and see how it can shift your interaction with the world around you.
And believe me, I am practicing right along with you.
Chat again soon,
k