In my experience as a coach and a counselor, I have worked with many people in the healing journey. I have found that very often the thing that gets in the way of one's healing is the expectation around what the healing journey is "supposed" to look like. We can tend to have a vision of the process and a timeline for how long it "should" take.
What works for one person may not work for someone else, and may even, hinder their progress. And, I have also found, when the process does not look like we thought it "should" look, we may begin to compare our journey to others, to question ourselves, and to even start asking "what is wrong with me?".
It is absolutely helpful to check in with others and see what helped them along the way. We can give those things a try, however, we must remember that if it does not work for us, it is simply because we are unique and everyone has their own journey. We must forge our own path forward, experimenting with what is helpful for our journey all along the way.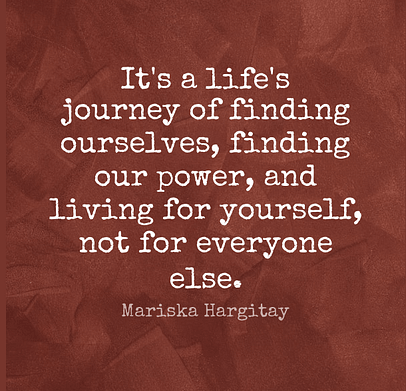 When we make the decision to begin the healing work in any form, we can fall into the trap of thinking that simply because we made the decision to heal and move forward, the journey should be a smooth one. However, making the decision to do the work to heal from stress, injury, trauma, or life means that we are making the decision to grow. And growth does not occur in our comfort zone.
The universe does not make the journey easy simply because we have decided to embark upon it. In fact, it sets up challenges along the way to help us grow into the kind of person who can hold the healing and move into the next phase of our lives. We are opening ourselves up to what life has to offer us next rather than holding on to what we have survived thus far.
So part of the journey is trusting that we can do it and this is often what holds us back from taking the first step. We wait for the time when we feel ready to undertake the work. We wait to have a vision of exactly how the journey will go. We wait for someone else to do the work for us. We wait for things to change on their own. But the waiting is simply keeping us stuck in the pain and the old patterns.
We must bravely step out onto our own path, creating our own integration, and turning toward the parts of ourselves that we have pushed away for so long. This is an unfolding and an unwinding of what we have been through, held on to, denied, and numbed out. We must practice patience with ourselves and trust the wisdom of our own bodies. Our body is what has carried us through the journey to this point and listening to what it is asking for rather than pushing ourselves based on appearance and expectations is an important, although difficult, step along the way.
We do not have to know exactly how the entire process will go, we simply have to take the next step. And then the next step. This is how we find more joy, health, fulfillment, and peace in ourselves and our lives.
This week, I invite you to assess where you may be stuck holding on, limiting yourself, or playing it safe. Give yourself permission to take as much time and as many tries in the journey as it takes. And then see what one step you can take toward your own healing and growth. I will be taking a step right along with you.
Chat again soon,
k