The Yoga Sutras are the ancient texts that describe and outline the philosophy and practices of yoga. The word sutra means thread and it is the root of the word suture that we use to refer to stitches in medical practices. A sutra helps us to weave together our daily practices, habits, and patterns with meaning, purpose, and love. In other words, study and practice of the sutras enables us to create an experience of our lives that leads to more peace and fulfillment.
The Yoga Sutras are not full of yoga poses; rather it imparts the teachings focused on how to live a life in which we experience peace of mind and ease in our interactions with the world around us.
The first word in the Yoga Sutras is Atha and it translates as "now". Here, it is part of a phrase introducing the study and practice of yoga. In discussion with course members this week, we took some time to discuss the one concept of "now" and all that it stands for.
In the realm of the study of yoga, this prompt of 'now' invites us to pay attention to what is about to be presented to us. Now is a phrase that asks us to be fully present and without delay. It creates urgency and it emphasizes the importance of what is at hand. This use of 'now' also tells us that there is no time like the present; that whenever it is now, it is the time to study and practice the teachings of yoga. "What are you waiting for", it asks; now is the time.
Now also directs us to be present in ourselves, in this moment, just as we are. There is no need to wait or to postpone until we are in a different state. Yoga meets us right where we are, with no expectation of who we should be in order to learn about and practice the philosophy of yoga. Now allows us to be whole in our current state.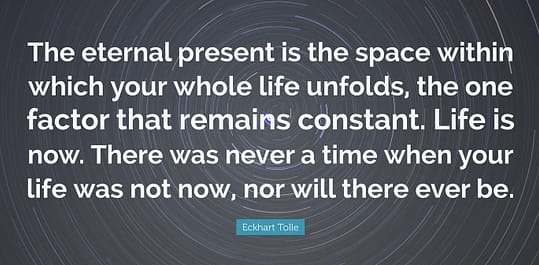 Now also invites us to be mindfully and completely present with whatever we are experiencing in this moment. This practice captures our attention and our energy so that there is no room in our minds for replaying things from the past or worrying about the future. Now grounds us in our bodies and our surroundings and provides respite by asking that we focus on being where we already are.
Now gives us permission to lean into what we are feeling, to explore what our bodies are telling us, and to take a step back from the stories in our heads. From here, we can make choices and decisions that are in alignment with who we want to be and how we want to show up in our lives.
I invite you to explore your experience of now. How can you be present and aware? How can you be all in one place in body and mind? And how you can you in this moment find peace and ease?
I will be leaning in to my experience of now right along with you.
Chat again soon,
k